In episode 007 of Kijana Leo TV program, we see a group of young people who put their talents to good use by developing and mass-producing dustless chalks to be used in schools across Tanzania. As their tale aired on Azam TV, they saw an immediate boost to their reputation and popularity.
The Maswa Family Group located in Simiyu works to alleviate the nationwide lack of chalk in Tanzania's educational institutions, with its twofold target: first, the company can mass-produce dustless chalks for the vast majority of Tanzania and Kenya's populace, and second, it can reduce the price of chalk from TZS 70,216.41 (about USD 30) a carton to just TZS 23,405.66 (about USD 10). 
Thanks to funding from the local government youth loans, through the Prime Minister's Office (PMO), that has allowed Maswa Family Group to grow and open a gypsum mine in Itigi, Singida region, as a source of raw materials.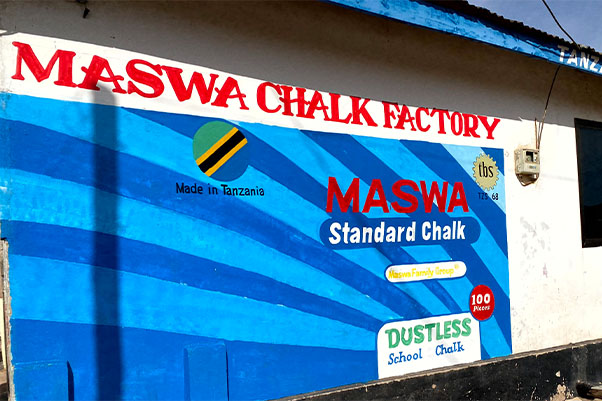 Kevin, the Maswa Family Group's creator, and CEO has employed more than 30 people in formal and informal capacities at the mine and in Simiyu, the primary production site for dustless chalks. The Maswa Family Group has taken an effort to expand their network of contacts by supplying chalk to agents in and around Simiyu town, as well as in larger cities like Arusha.
The key themes of the series tell the story of the Maswa Family Group's evolution from a musical group to a community organisation to a successful social enterprise that supplies most of the country's dustless chalk. Showing the dedication resilience, innovativeness and versatility of this group to succeed.
"The ability to have a visionary leader who can guide the group to success within a specified time frame is crucial for a youth-led group", says Kelvin, adding that a promotional stint like the one they had the fortune to be part of on Kijana Leo TV program was a valuable uplifting moment.
Watch the full episode from our YouTube Channel: